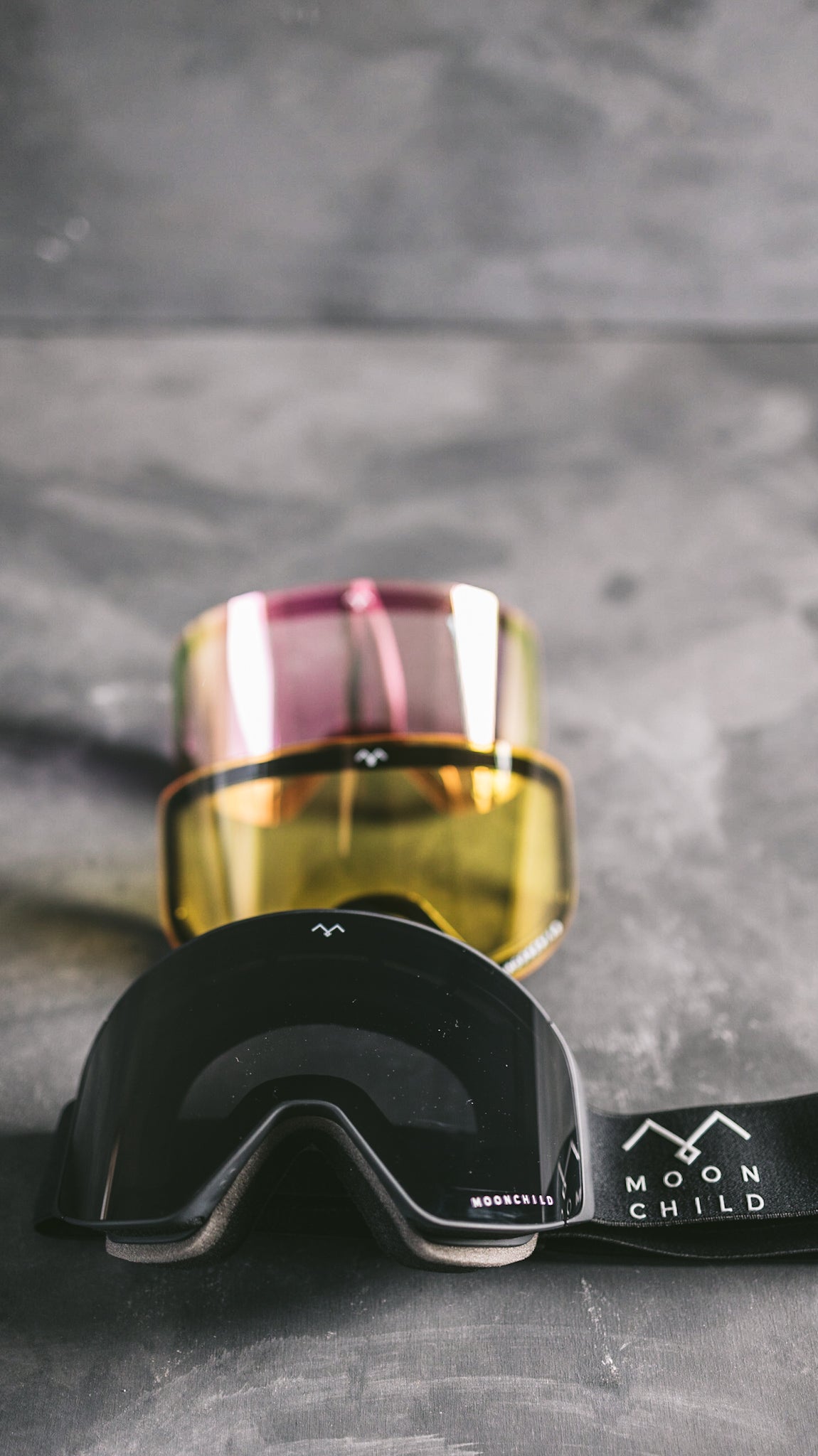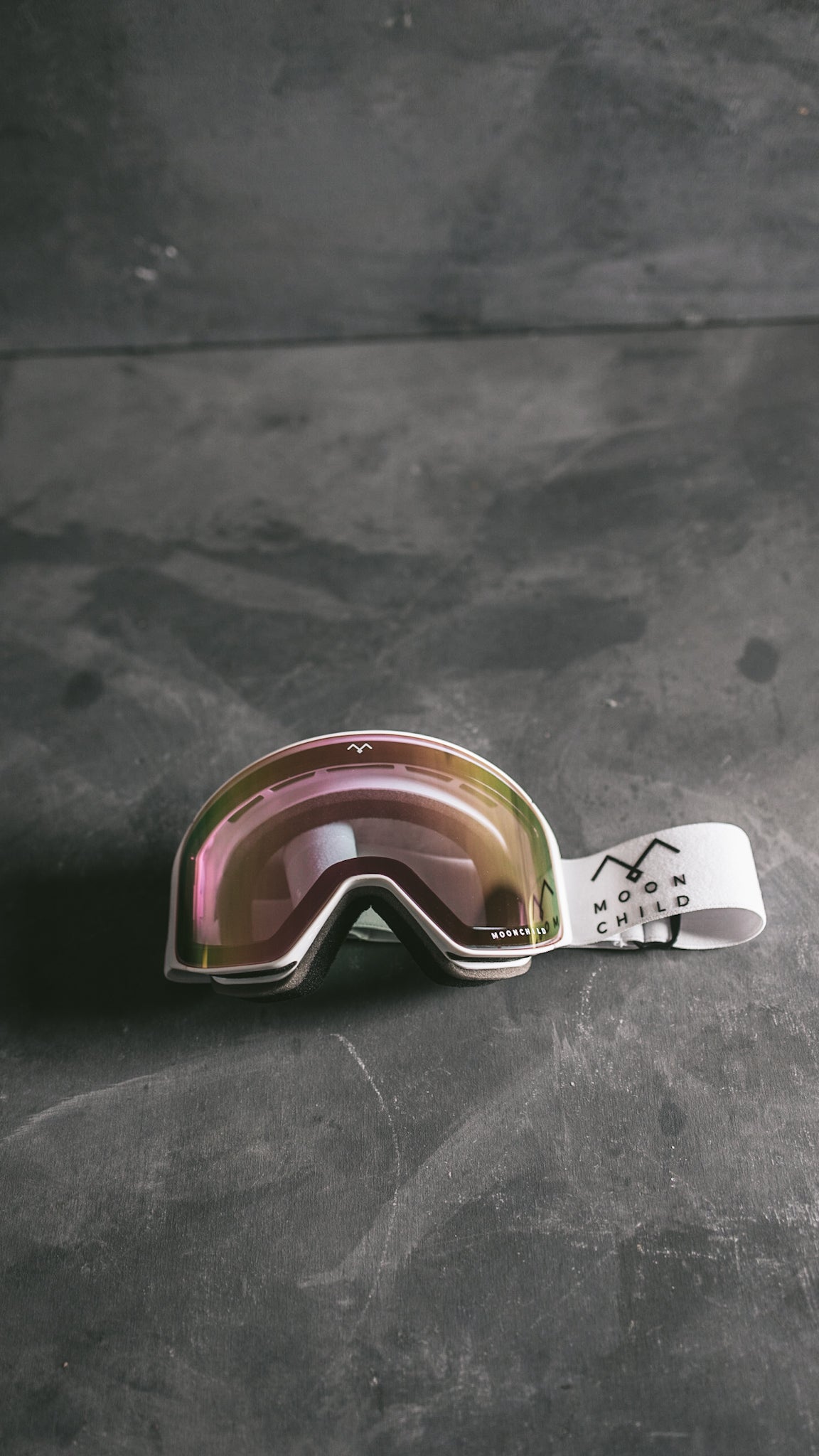 Description
Ride with comfort and style! Moonchild goggles have a modern cylindrical design with a wide sight angle and magnetic lens to make your life easier on the mountain.  
All goggles comes with three lenses: black, mirror pink and yellow.... just to make sure that you´ll be set for all weather conditions this winter!

You can choose between a black or white frame.
A hard-shell case and microfiber bag to protect your goggles while traveling are also included.
Available only for Europe and North America.

Specs
Dimensions: 18,3cm x 10,5cm.
Polyurethane frame: Flexible with a comfy fit.
Helmet compatible 100%
Elastic strap with silicone strips.
Magnetic lens: Black, yellow, mirror pink.
Each lens consists of an inner/outer cylindrical lens.
Anti-scratch outer lens.
Permanent anti-fog inner lens.
EVA hard-case: The ultimate travel protection for your goggles.
Cloth bag: Keeping your lens clean on the hill.



Warranty
All Moonchild goggles have a two year warranty against manufacturer's defects from the date of purchase. The warranty only covers defects in materials and workmanship. Normal wear and tear, excessive abuse or misuse will not be covered.
FAQ
Sizing of the goggles
There is only one size of the unisex  goggles model. The goggles are a bit bigger model to have wide a sight angle without interruptions of the frame. Goggles fit the majority of the faces, however, feel free to try them at home. If they don't fit you you have 14 day- period to return the unused product and get money back.
Are Monchild goggles helmet compatible?
Yes. Adjustable straps are long enough to go over our under all helmets. The frame of the goggles is designed to fit the majority of the helmets on the market.
Which lens should I use for snowboarding?
If it is a sunny day then go 100% with a black mirror lens, when it is snowing or foggy use a yellow lens for brighter sight. If the conditions are unpredictable use a pink mirror lens. However, you will get goggles with all three lenses which are super easy to change (magnetic lenses). We recommend you to take them all to them mounting and have them ready in your backpack for a quick change.
Shipping
 From order to shipping  
We are not Amazon. We are a small company, we are doing everything in the company by ourselves. That means we can't ship your goggles 5 minutes after you place an order. However, we will do our best to ship your goggles as soon as possible. In most cases, we will ship it in 2-5 days since the order is placed.
From where will be my goggles shipped?  
Goggles for US and CAN orders are shipped from Montana.
Goggles for EU orders are shipped from Spain. If you live in Slovenia, Washington or Montana you can contact us to collect the goggles personally.
Tracking of your order  
We will send you tracking number to track your goggles.