Looking for a different size?
This board might work. Learn about Volume-Shifted Snowboards here or chat with us.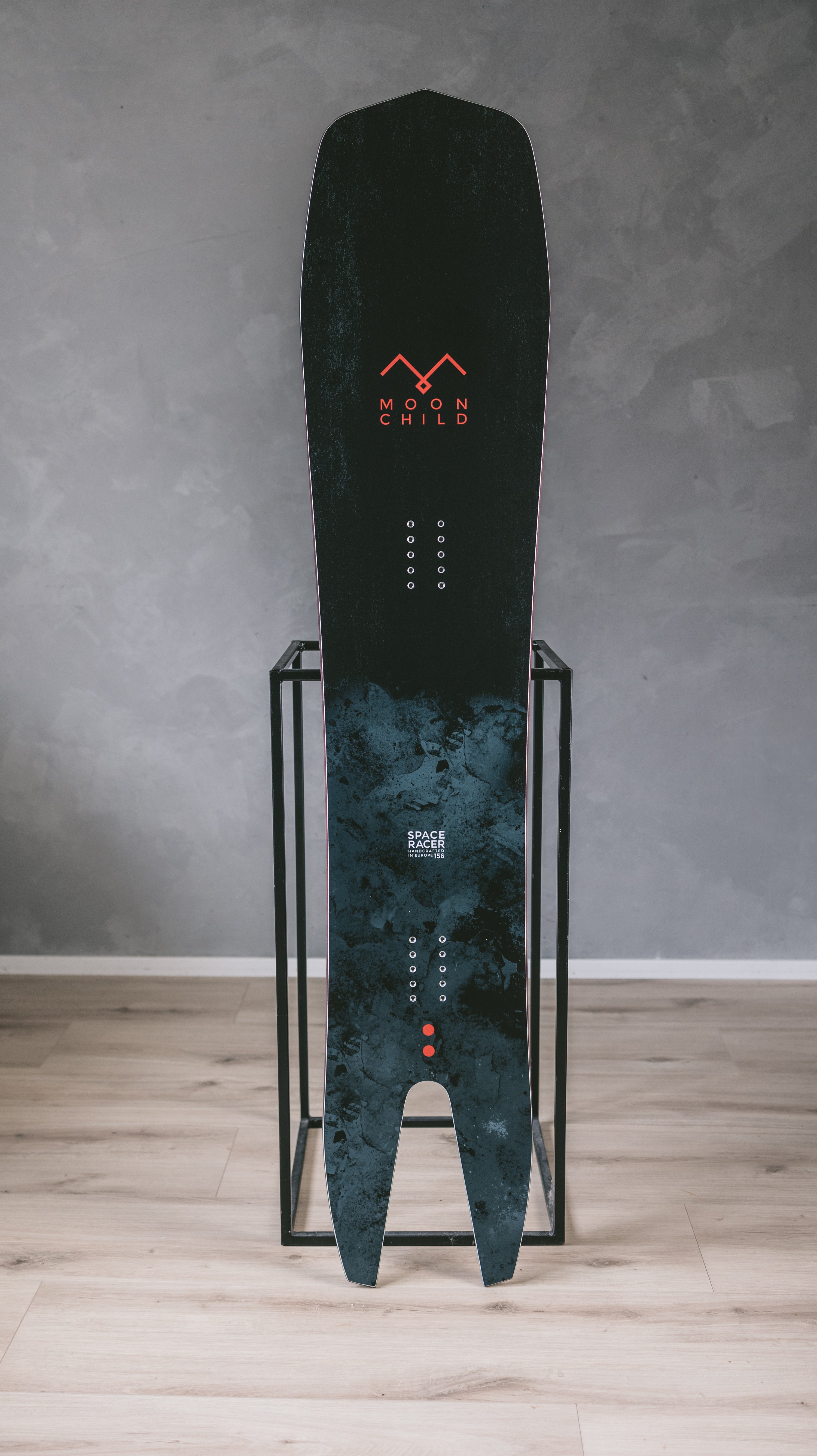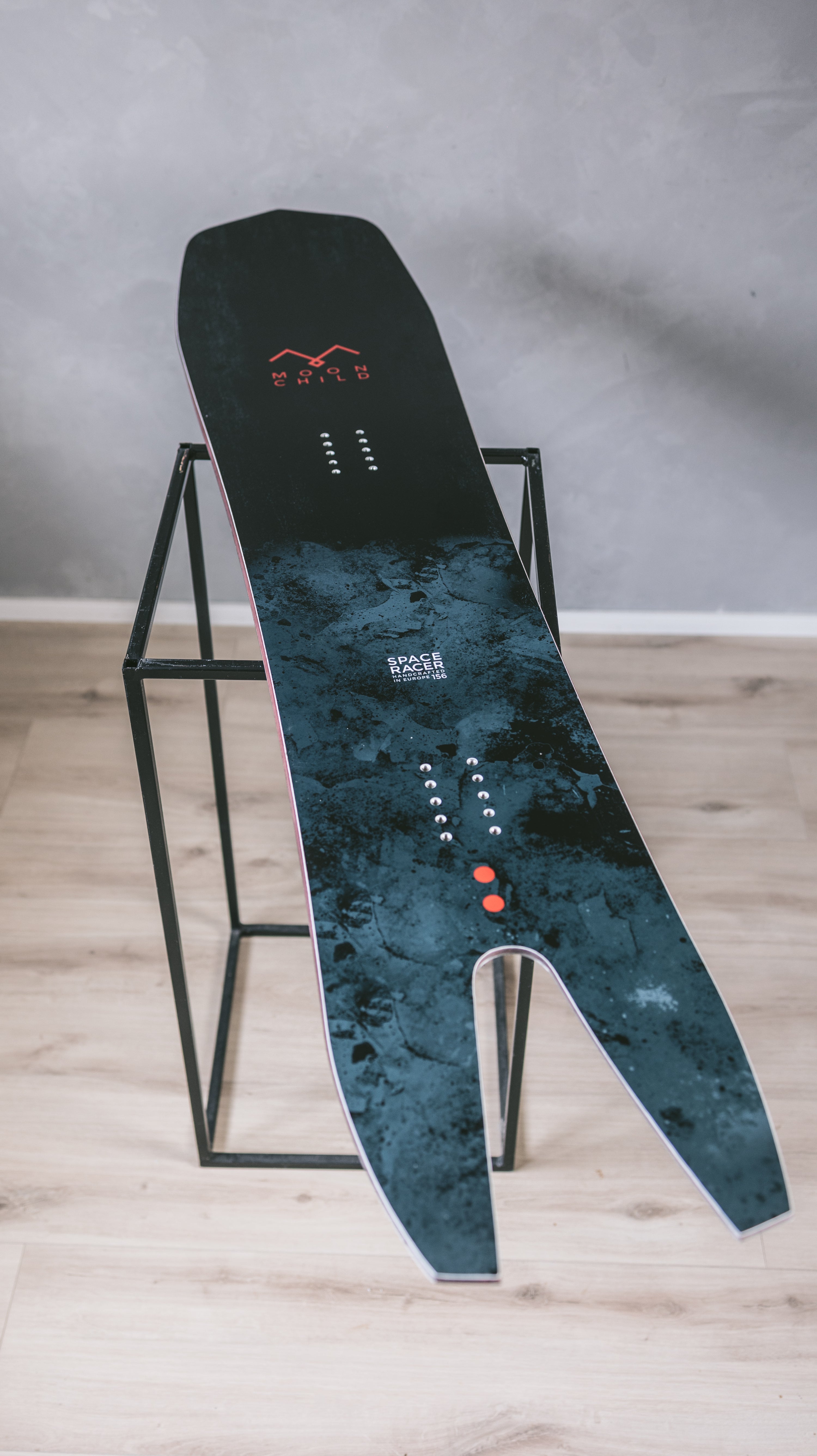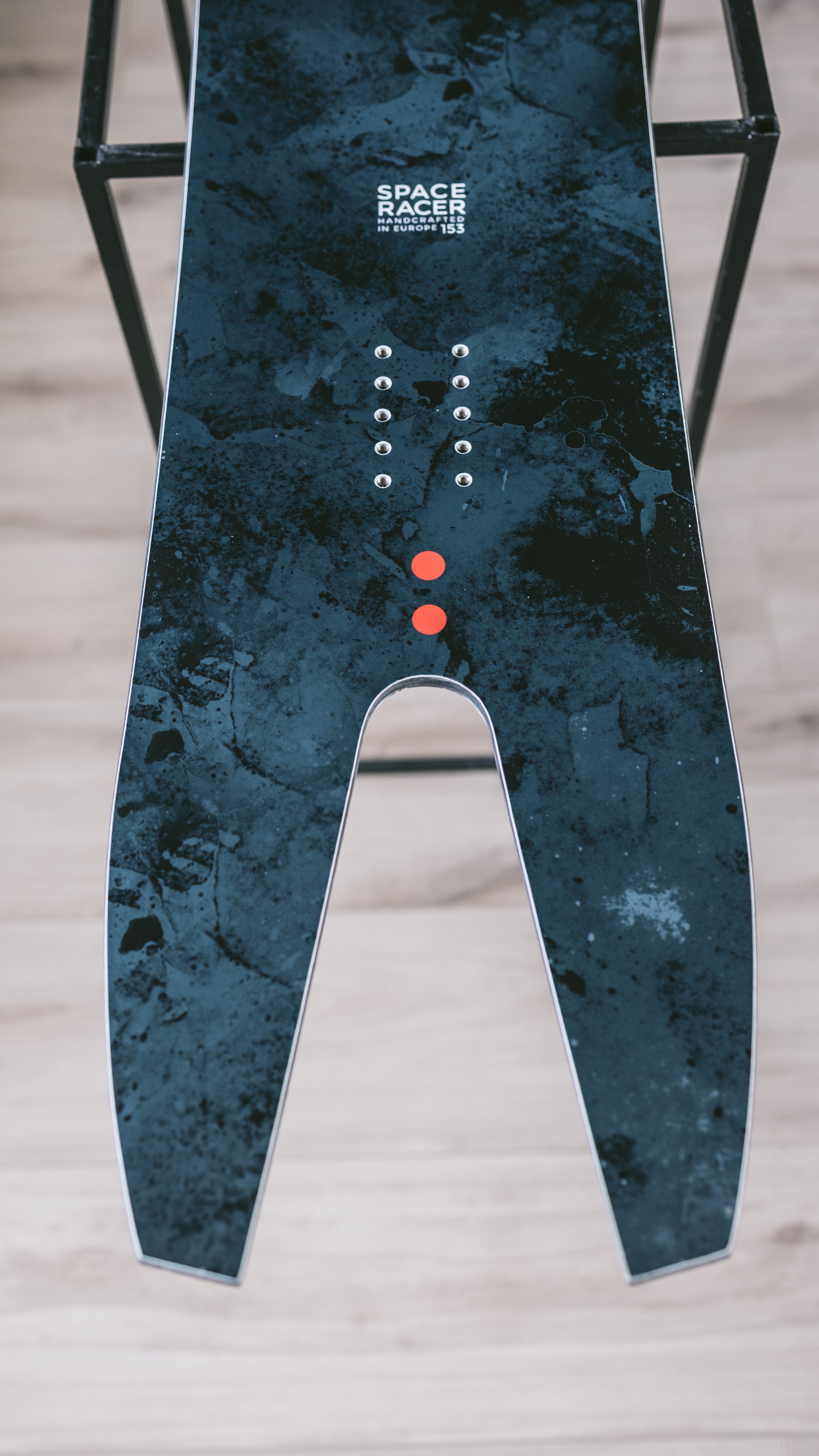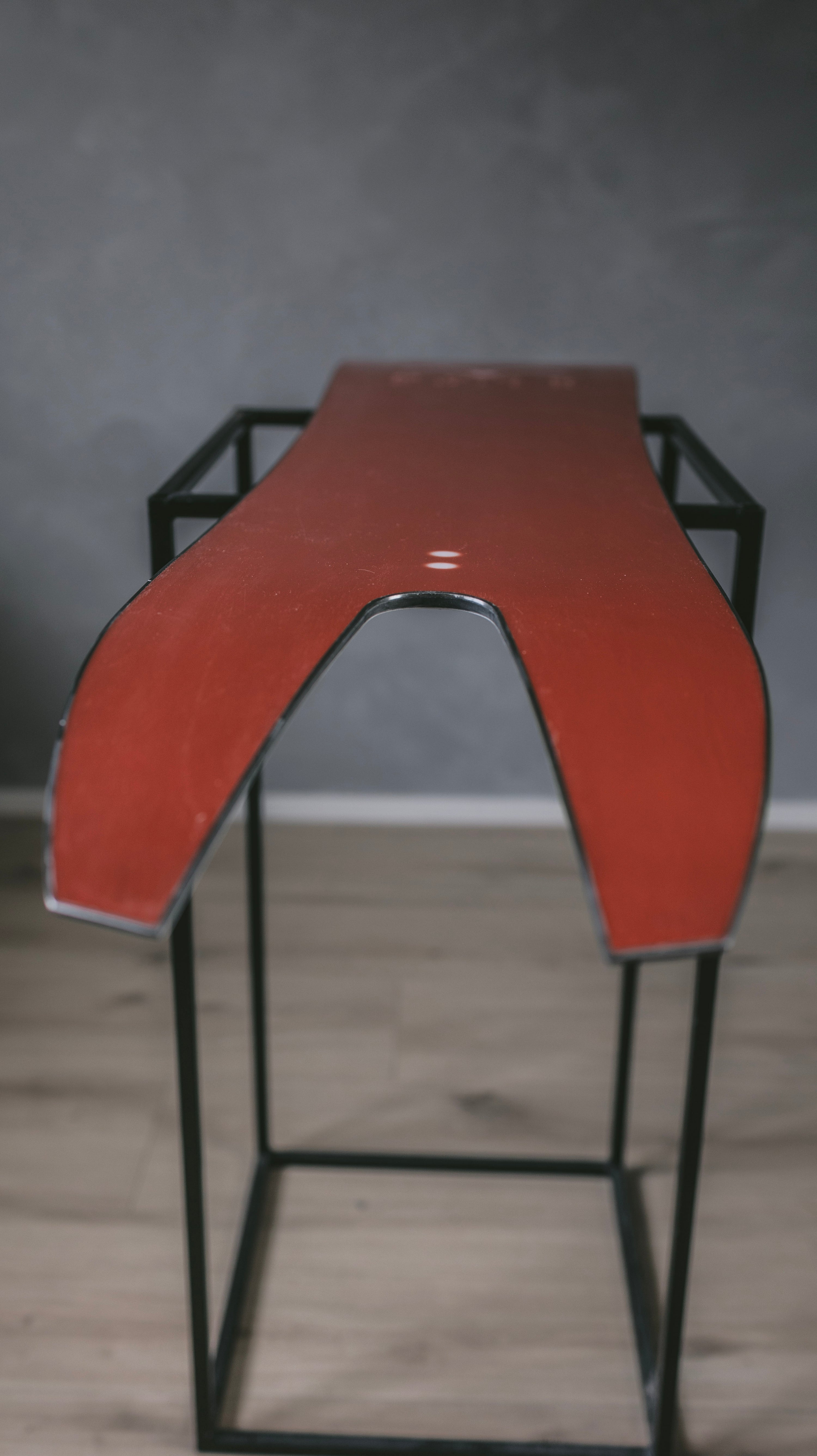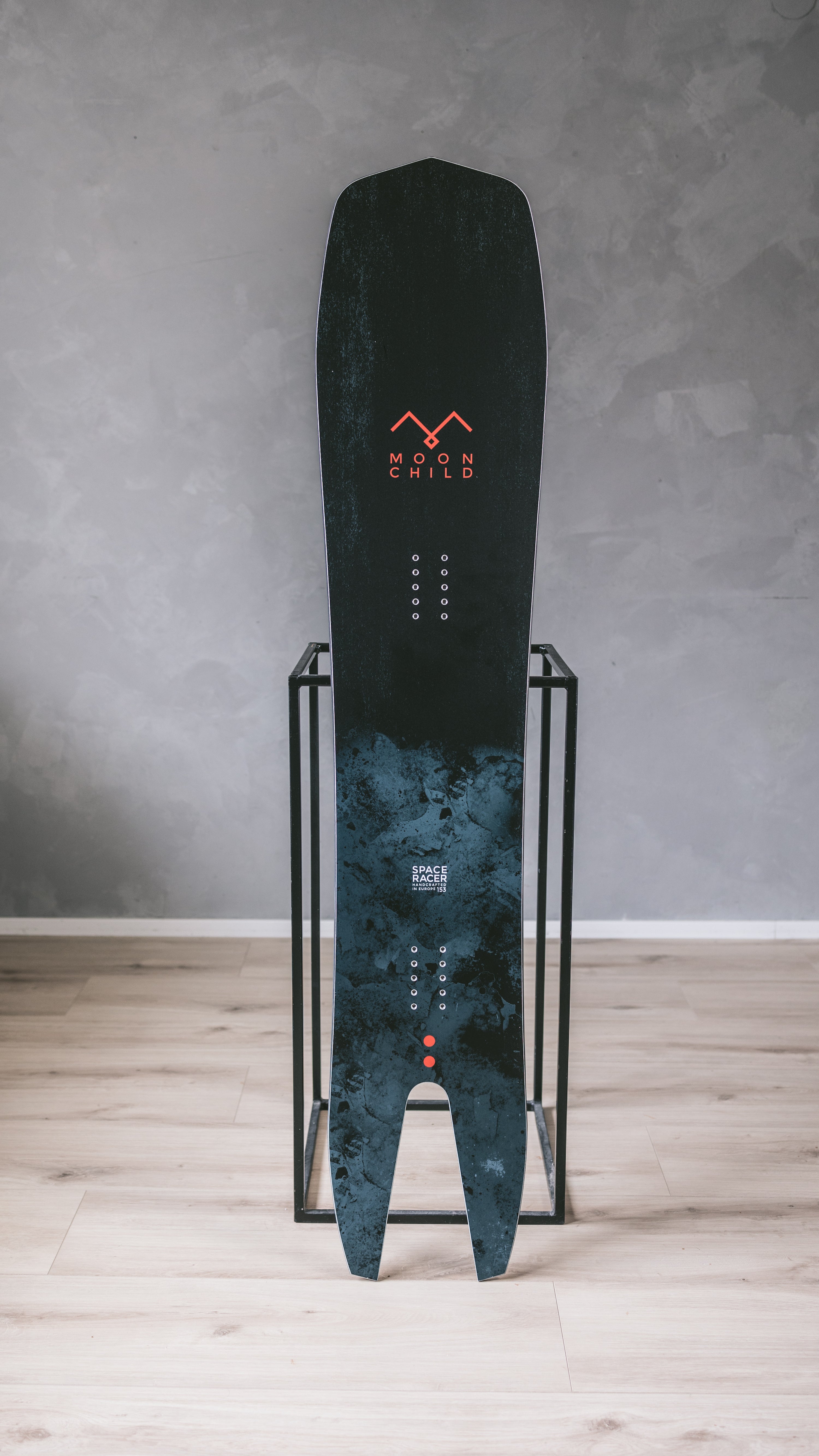 Description
Comes in 2 lengths for season 2023/24: 153cm and 156cm. 
The Space Racer is becoming a cult classic among swallowtail snowboards. It's designed for those who don't make compromises in pow but still want to carve on groomers like a Pro. This deck has a bigger surface area, surf-rocker/mellow camber profile, tapered outline and a lighter paulownia/poplar/beech core that will keep you floating, regardless the conditions.

You can ride this wider volume-shifted shape a little shorter than your normal board. The swallowtail gives it a longer side-cut in the tail and you will be surprised how good it carves on the groomers.
The special blend of the sidecut design with the rocker profile in the front will make you glide with an ease even in the deepest pow. This same design will also prevent you from catching an edge on the groomers, even when riding a completely flat base.
The swallowtail is reinforced with carbon stringers and full wrap steel-edges so you can load up that tail without fear of breakage!
Conclusion, the Space Racer is ideal for sick powder turns or full-send on groomed corduroy piste. 

Everybody loves this board. Everyone!
WHITELINES  MAG SPACE RACER REVIEW:
Boards will ship in October, 2023.
Specs
FLEX: 8/10
Profile: Mellow camber / Surf Rocker
STRUCTURE:
Glass: Biax/Triax
Base: Sintered IS 7500
Woodcore: Paulownia / Poplar / Beech
Reinforcements: Carbon

SPACE RACER 153
SHAPE:
Length: 153cm
Surface Area: 39,9dm2
Nose Width: 32,2cm
Waist Width: 26,7cm
Tail Width: 28,2cm
RIDERS SPECS (153)
Max Boot Size: 44EU
Rider Weight Range: 60-85kg
Rider Height Range: 165-180cm

SPACE RACER 156
SHAPE:
Length: 156cm
Surface Area: 41,4dm2
Nose Width: 32,9cm
Waist Width: 27,2cm
Tail Width: 28,7cm
RIDERS SPECS (156)
Max Boot Size: 46EU
Rider Weight Range: 70-95kg
Rider Height Range: 175-190cm





Warranty
All Moonchild snowboards have a two year warranty against manufacturer's defects from the date of purchase. This warranty only covers defects in materials and workmanship. Normal wear and tear, excessive abuse or misuse by riding things other than snow will not be covered.
FAQ
Where can I buy a Moonchild snowboard?
All products can be purchased through our online store. We don't work with distributors, retailers or physical stores for now.
Are Moonchild snowboards only designed for powder?
All our directional models are designed with powder in mind, however we have also designed them to hold a good carve on the groomers. Our Twin models are made for more resort riding....jumps, snowpark, carving, cruzing, jibs.
Where can I demo Moonchild Snowboards?
We don't offer Demo days at the moment, but if you´re living in Washington, Montana or Slovenia there is a chance for you to test some boards. You can get in contact with Jerry Wesley (Mt. Baker, WA), Jake Nelson (White Fish, MT) or Jure Sodja (Slovenia) and they will help you out.
We are working on a Demo tour for the U.S and European resorts for next season.
We recommend you to read all the customers feedback, descriptions and specs on the model you´re interested in before the purchase. You can also contact us and we will help you to find the right product that fits your height, weight and style of riding.
Can I get one of your production models in another length, width, flex or graphics?
Yes, we can build a customized snowboard for you, based on a production model. Check our Custom snowboards page.
Shipping
From order to shipping:
First of all, we are not Amazon. We are a small company and humans. That means that we can't ship your product 5 minutes after you have placed the order. However, we will do our best and ship your order as soon as we can. In most cases, we will have the order shipped within 1-5 days.
There will be a tag on the product that indicates if the product is available or not, and as well when the product will be re-stocked and estimated shipping date.
From where will my snowboard be shipped?
Snowboard orders from North America will be shipped from our warehouse in Washington or Montana, USA.
Snowboard orders from Europe, Japan, Australia and New Zealand will be shipped from our warehouse in Spain or Slovenia.
You can personally collect the snowboard if you live in Washington, Montana, Slovenia or Spain.
Tracking your order:
We will send you the name of the parcel company and tracking number on e-mail after the order is shipped.